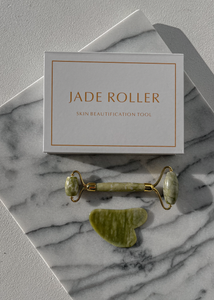 Ocean Magnesium
GAU SHA STONE - JADE GREEN
Regular price
$41.00
$0.00
OCEAN MAGNESIUM SPA RANGE – GUA SHA STONE MASSAGE THERAPY
For a limited time only (while stocks last) due to numerous requests we have managed to source these beautiful Gua Sha stones in gift boxes.
GUA SHA is a natural face and body therapy to increase blood circulation, relax muscle tissue, improve lymphatic drainage, depuff and sculpt your face, massaging the skin with a semi-precious stone (Gua Sha) helps break up blockages, reduces inflammation and is said to help for better healing. Gua Sha helps balance and move Qi (energy of life throughout the body). It is believed that semi-precious stones/crystals derived from the earth contain an energetic charge or metaphysical property that is able to positively affect the charge within the body that either heal, enhance or protect.
ROSE QUARTZ (pink) Stone of love and compassion, flushes negativity from body enhances healing
JADE (green) Popular stone due to its ability to bring balance to all of the body's systems so as to function optimally, releases negativity and relax the mind
AMETHYST (PURPLE) Stone of cleansing, protection and inspiration. Amethyst is said to sharpen intuition while calming the mind and spirit, used to cleanse the body's organs and circulatory system
BLACK OBSIDIAN (black) Natural elements of water, fire and earth to purge and rejuvenate the body while strengthening muscles. Additionally to detoxify the mind of negative emotions
Use – Cleanse skin, apply facial oil, serum, moisturizer,Magnesium gel/spray (or you can use without any products) the serum etc will lubricate skin and help Gua Sha stone glide effortlessly – Gua Sha is a great way to absorb your serum/magnesium product into skin and relax and invigorate the skin.
After use simply wash the Gua Sha tool in warm(not hot) soapy water and pat dry. Handle your Gua Sha stone/tool with extreme care as semi-precious stone is prone to cracking. For more information on Gua Sha check the web.
Gua Sha is a sustainable, renewable, eco-friendly skin care treatment.
Disclaimer: We sell our Gua Sha in gift box with appropriate packaging for protection – we cannot refund/replace product once we lodge product for shipping.

---
More from this collection