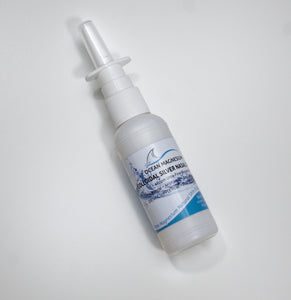 Ocean Magnesium
OCEAN MAGNESIUM COLLOIDAL SILVER NASAL SPRAY
Regular price
$14.00
$0.00
99.999% pure silver suspended in demineralized water and FREE from artificial additives.
10 – 16ppm
ANTIBACTERIAL – Super effective at eliminating bacterial infections
WOUND CARE/SKIN HEALTH – Can be used on skin for burns, thrush,periodontitis,psoriasis and eczema
EYE/EAR INFECTIONS – Can be used to treat pink eye and viral & bacterial eye & ear infections even fungal infection
SINUSITIS/HAYFEVER/ALLERGY – Can benefit as a nasal spray against infections that cause sinusitis & allergies
COLD/FLU – Immune-boosting benefits against colds & flu and viral strains.  
Dosage – 1 – 4 sprays per day for no more than 10 days at a time.
This product is not meant to diagnose, treat or cure and disease or medical condition. Please consult your medical practitioner before using any supplementation or before using any product during pregnancy or if you have a medical condition.  
---
More from this collection