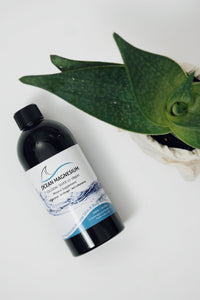 Ocean Magnesium
COLLOIDAL SILVER 15-18PPM 500ML
Regular price
$27.00
$0.00
Mineral Supplement (15 - 18PPM) Antibacterial - Anti fungal - Anti Inflammatory
Directions: Take approximately 10ml and hold under the tongue for 30 seconds before swallowing.  Repeat 2-3 times daily
Ingredients: Colloidal Silver made from 99.99% pure silver suspended in demineralised water
Colloidal silver is used to treat infections due to yeast; bacteria (tuberculosis, Lyme disease, bubonic plague,pneumonia, leprosy, gonorrhea, syphilis, scarlet fever, stomach ulcers, cholera); parasites (ringworm, malaria); and viruses (HIV/AIDS, pneumonia, herpes, shingles, warts).

Colloidal silver is also used for lung conditions including emphysema and bronchitis; skin conditions including rosacea, cradle cap (atopic dermatitis), eczema, impetigo, andpsoriasis; and inflammation (sometimes due to infection) of the bladder (cystitis), prostate (prostatitis), colon (colitis), nose (rhinitis), stomach (gastritis), tonsils (tonsillitis), appendix (appendicitis), and sinuses (sinusitis).

Other uses include treatment of cancer, diabetes, arthritis, lupus, chronic fatigue syndrome, leukemia, hay fever and other allergies, trench foot, and gum disease.

Colloidal silver is also used to prevent flu, H1N1 (swine) flu, and the common cold.

Colloidal silver is applied directly to the skin for acne, burns, eye infections, fungal infections, throat infections, skin infections, and Staphylococcus infections.
---
More from this collection