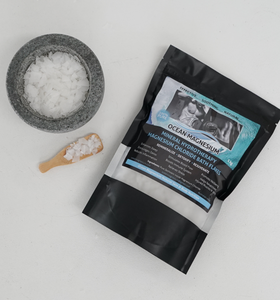 Ocean Magnesium
MAGNESIUM BATH FLAKES
Regular price
$25.00
$0.00
OCEAN MAGNESIUM MINERAL HYDROTHERAPY  
MAGNESIUM CHLORIDE BATH FLAKES  
Mineral Therapy is the absorption of Magnesium Chloride through the skin, this method has a powerful effect in assisting the body to build and store optimal levels of Magnesium to promote overall health, and is substantially more effective than when taken orally, this is proven. 
Ocean Magnesium is a highly concentrated natural form of Magnesium that is sustainably mined (using water pressure) making it one of the purest and natural sources of magnesium chloride in the world. Magnesium bath flakes help replenish the body with this essential mineral and other trace minerals.  
Soaking in warm water (not hot) reduces the force of gravity that compresses the joints thus offering support for sore joints & muscles & decreases swelling & inflammation while increasing circulation.  
REMINERALIZE                        DETOXIFY                          REJUVENATE  
Enhances Sleep                                                               Reduces Inflammation
Stimulates Blood Flow & Healing                                   Boosts Immune System
Stress Relief                                                                    Encourages Detox 
Calms Nerves & Anxiety (depression,PTSD etc..) 
Important for Heart Health
Hydrates Cells, improving Skin and Muscle Tone        
Supports Healthy Pregnancy and Lactation
Helps increase serotonin levels (the happy hormone)
Helps rehabilitate injured muscles and joints - & many more benefits  
EFFECTIVE                               SOOTHING                        NATURAL
Ideal for children and sensitive individuals. Easy and convenient "do it yourself" method of Transdermal Magnesium Supplementation.                                                    Vegan, Non Toxic, 100% Natural. 
Ingredients: Pure( Zechstein Inside) Magnesium Chloride & Trace Minerals
Ocean Magnesium products are designed to work together synergistically for the optimum benefit of good health and wellbeing.          
---
More from this collection