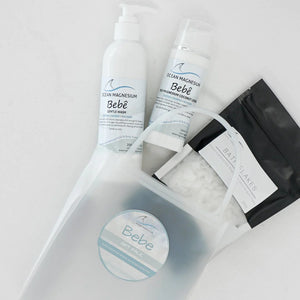 Ocean Magnesium
BEBE GIFT PACK (3 PRODUCTS)
Regular price
$60.00
$0.00
BEBE GENTLE HEAD - TO - TOE WASH 200ml

All in one gentle wash with natural cleansers and nourishing Australian jojoba oil, this soothing wash will leave baby's skin feeling soft and smooth. Gentle aroma of mandarin and chamomile essential oils leave skin smelling fresh. Body wash and shampoo suitable for newborn and sensitive skin of all ages.  Avoid contact with eyes and discontinue use if irritation occurs. SOOTHE- PAMPER - NOURISH   
BEBE MILD MAGNESIUM COCONUT LOTION 100ml
Mild Magnesium body moisturizer for baby, newborns and people with very sensitive skin. Magnesium Bebe lotion will calm and soothe to enhance sleep while replenishing magnesium levels. Use as a moisturizer and massage cream. 
Apply Bebe lotion generously as often as needed.
Ocean Magnesium products are non-toxic and safe to use. Transdermal magnesium supplementation is absorbed through the skin and never causes digestive issues.
Magnesium lotion benefits for babies include:
Colic
Reflux
Enhances sleep
Helps build strong bones and teeth
Maintains cardiovascular health
Regulates bowel – transition from breast to formula and solids
Improves immune system
Increases oxygen and blood flow to tissues and the brain
Enhances a calm nervous system – and many more benefits…
Regular daily use is highly effective.
 MINERAL HYDROTHERAPY MAGNESIUM CHLORIDE BATH FLAKES 250g
Dissolved in warm water, Ocean Magnesium Bath Flakes are ideal for baby, children and adults. Regular Magnesium Chloride baths provide minerals which help to improve sleep, relax the nervous system, absorb nutrients, regulate enzyme activity, strengthen immune system, relax muscles, 
reduce pain and inflammation. Magnesium Chloride bath is a great way to calm, soothe and relax your baby before bed.  SOOTHE - PAMPER - NOURISH                                                                                                                             
---
More from this collection